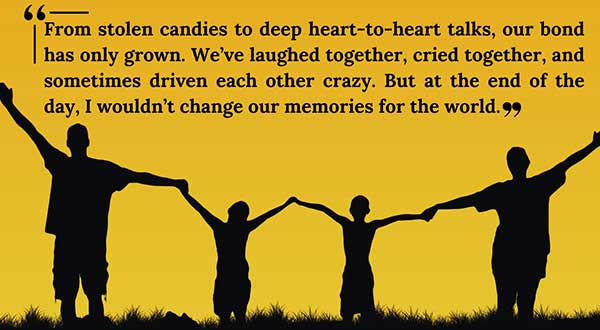 Writing a family love letter is a deeply personal and touching gesture. It's an opportunity to express your feelings, share memories, and convey the importance of family bonds. If you want to write a love letter to your family, here's a step-by-step guide to help you craft a heartfelt message:
Choose the Format: Decide if you'll write a handwritten letter, type it out, or even create a digital message. Handwritten letters carry an emotional weight and personal touch.
Address Them Personally: Start with a heartfelt salutation. Addressing family members by their names or by the special nicknames you have for them can instantly make your letter feel intimate.
Express Gratitude: Begin by thanking your family for specific things they've done or the general support they've provided. This sets a positive tone for the rest of the letter.
Share Memories: Reminisce about special moments you've shared, both joyful and challenging. This evokes nostalgia and strengthens the bond by reminding them of the times you've been through together.
Express Your Feelings: Dive deep into your emotions. Tell them how much they mean to you, how they've impacted your life, and their special place in your heart. Don't be afraid to be vulnerable; genuine emotion can make your letter more powerful.
Acknowledge Each Member (if applicable): If you're writing to your entire family, make it a point to mention each member and share a special memory or trait you admire about them. This personal touch will make each family member feel cherished.
Share Your Wishes and Prayers: Express your hopes and dreams for your family's future. Whether it's a wish for happiness, health, prosperity, or continued togetherness, sharing these sentiments can be deeply touching.
Reiterate Their Importance: Emphasize the significance of family bonds and how they have shaped your life. Let them know that regardless of distance or circumstances, they will always hold a special place in your heart.
Close with Warmth: End the letter with a warm closing line. It can be a simple "With all my love," "Forever yours," or "Gratefully and lovingly."
Add a Personal Touch: Consider enclosing a family photo, drawing, or any other memento that holds sentimental value. This adds an extra layer of personalization.
Deliver with Care: Think about how you want to deliver your letter. Hand-delivering it can be a beautiful gesture, but mailing the letters with a personal note on the envelope can be equally touching if your family is scattered.
The most important thing is sincerity. It's not about crafting the perfect prose but conveying genuine emotions and letting your family know how much they mean to you.
30 Love Letters For Family
The idea behind the latter type of "Family Love Letter" is to provide clarity, reduce the potential for conflict among surviving family members, and ensure that one's wishes are known and can be followed. Here are 30 letter ideas that help you to write and express your feelings. Let's begin!
Letter 1. To My Guiding Star, Mother
Dear Mother,
As I sit down to write you this, the memories of our times together come flooding in. I remember the countless nights you stayed awake when I was sick, the way your fingers would brush my hair gently as I fell asleep, and the sound of your comforting voice telling me stories of your own childhood. Your strength and grace have always been a beacon for me.
I can never thank you enough for the sacrifices you made, the love you showered upon us, and the lessons you taught. Your love has been my constant, unwavering in its intensity and purity. I pray that life showers you with the same joy and warmth you have given to us.
With all my love,
[Your Name]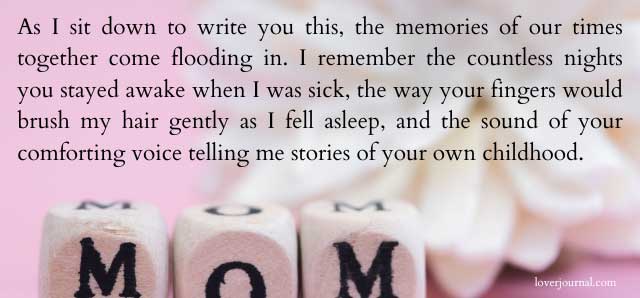 Letter 2. To My Protector, Father
Dear Father,
Growing up, I often looked at you as my superhero. The one who could fix broken toys, chase away the monsters under the bed, and shield us from all harm. As I grew older, I realized that you were shielding us from so much more – the hardships of life.
Your laughter has been the background music of our home, and your wisdom, the foundation of our values. I hope to make you proud every single day. I love you more than words can express.
Always your child,
[Your Name]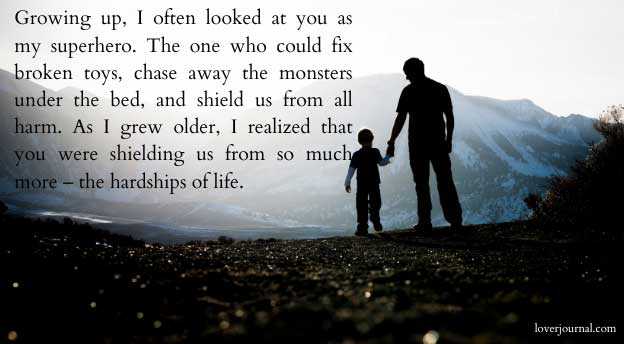 Letter 3. To My Partner-in-Crime, Sibling
Hey [Sibling's Name],
From stolen candies to deep heart-to-heart talks, our bond has only grown. We've laughed together, cried together, and sometimes driven each other crazy. But at the end of the day, I wouldn't change our memories for the world.
Your ambition inspires me, your resilience awes me, and your love strengthens me. Here's to many more adventures together!
Love,
[Your Name]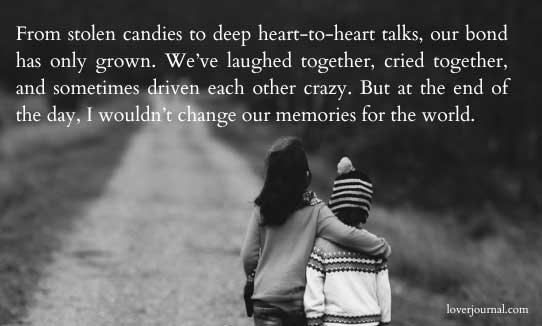 Letter 4. To My Little Sunshine, Daughter
Dear [Daughter's Name],
From the moment I held you in my arms, my world changed. Watching you grow, from your first steps to your first words, has been my life's greatest joy.
You've brought endless warmth into our home with your giggles and innocent wonders. May you always be surrounded by love, and may all your dreams come true.
With infinite love,
[Your Name]
Letter 5. To My Little Champ, Son
Dear [Son's Name],
Every time I look at you, I see a reflection of the best parts of myself and the endless possibilities of the future. Your curiosity, determination, and pure heart never cease to amaze me.
I wish for you a life filled with love, challenges that make you stronger, and memories filled with joy. Keep shining, my boy.
With pride and love,
[Your Name]
Letter 6. To My Better Half, Spouse
My Beloved [Spouse's Name],
From our first date to our quiet moments now, every day with you feels like a cherished memory. You complete our family in ways words can't express.
Your unwavering support, understanding, and love have made our home a haven. With you, every day is a blessing. Here's to our forever.
Eternally yours,
[Your Name]
Letter 7. To My Pillar of Strength, Grandmother
Dear Grandma,
Your stories, wisdom, and the delicious meals you've cooked are etched in my memory. I've learned so much from your resilience, grace, and boundless love.
You have been the silent force, the backbone of our family. I pray for your health and joy every day. You are cherished, Grandma.
Love always,
[Your Name]
Letter 8. To My Fountain of Wisdom, Grandfather
Dear Grandpa,
From teaching me to ride a bike to sharing tales of the past, you've been a guiding star. Your laughter, warmth, and invaluable life lessons have shaped me.
I feel immense gratitude when I think of all you've done for our family. Your love and teachings are my treasured inheritance.
With immense respect,
[Your Name]
Letter 9. To My Confidante, Aunt
Dear Aunt [Aunt's Name],
You've been my secret keeper, my mentor, and sometimes, my partner in mischief. Your zest for life, your invaluable advice, and your unconditional love have been a steady presence.
Thank you for being the amazing soul that you are. Our family is brighter with you in it.
Warm hugs,
[Your Name]
Letter 10. To My Adventurous Uncle
Dear Uncle [Uncle's Name],
From camping trips to invaluable life lessons, you've added color to my life. Your adventurous spirit, your anecdotes, and your jovial nature have always drawn me to you.
I'm so grateful for the bond we share and for all the moments we've spent together. Keep spreading joy as you always do.
Best,
[Your Name]
Letter 11. To My Bubbling Brook, Niece
Dear [Niece's Name],
Seeing you grow, laugh, and discover the world has been an indescribable joy. Your infectious laughter and boundless energy light up our family gatherings.
I pray for a world full of opportunities for you, my dear niece. Always keep that sparkle in your eyes.
Fondly,
[Your Name]
Letter 12. To My Energetic Nephew
Dear [Nephew's Name],
Every time we meet, your new stories, mischiefs, and achievements leave me in awe. You're growing into a fine young man, and I couldn't be prouder.
Your dynamism adds a special flavor to our family mix. Dream big and know that you're loved immensely.
Cheers,
[Your Name]
Letter 13. To My Sweet Sister-in-law
Dear [Sister-in-law's Name],
Thank you for the warmth, understanding, and love you bring into our family. From our chats over coffee to our shared secrets, every moment with you feels special.
Your strength and grace inspire me. I'm truly blessed to have you as a part of our family.
Warm regards,
[Your Name]
Letter 14. To My Brother, The Rock
Dear Brother,
Though we've had our differences, your unwavering support and love have been my anchor. I cherish our shared memories, from childhood pranks to deep conversations as adults.
Your strength, integrity, and love define our family. Here's to many more memories together.
Always by your side,
[Your Name]
Letter 15. To My Guiding Angel, Godmother
Dear Godmother,
Your blessings, love, and guidance have been my silent protectors. From festive celebrations to life's challenges, knowing you're by my side brings immense comfort.
Thank you for the love and light you bring into our family. I hold our bond close to my heart.
With deep affection,
[Your Name]
Letter 16. To My Dynamic Cousin
Hey [Cousin's Name],
From summer holidays to sneaking out for late-night ice creams, our memories together are countless. You've been my partner-in-adventure through thick and thin.
Our bond is unique and cherished. Here's to the love, laughs, and endless stories we share as family.
Cheers to us,
[Your Name]
Letter 17. To My Twin Flame, Twin Sibling
Dear Twin,
In you, I see a reflection of myself – our shared memories, laughter, and even our disagreements. We've journeyed together from the womb to the world.
Your love and understanding have been my constant. Our bond is irreplaceable and cherished beyond words.
Forever connected,
[Your Name]
Letter 18. To My Guiding Light, Step-Mother
Dear Step-Mother,
Thank you for stepping into our lives with such grace, love, and warmth. Your kindness, patience, and understanding have brought healing and love to our home.
You have added a beautiful chapter to our family story. I cherish our bond and the love we share.
With heartfelt gratitude,
[Your Name]
Letter 19. To The Storyteller, Step-Father
Dear Step-Father,
From the tales of your experiences to the wisdom you impart, you've added depth and love to our family. Your understanding and love have bridged gaps and built strong connections.
I value the moments we share and the stories we've created together. Thank you for being you.
Best wishes,
[Your Name]
Letter 20. To My Second Mom, Mother-in-law
Dear Mother-in-law,
Your love, warmth, and acceptance have made me feel like a part of the family from day one. From shared recipes to life advice, every moment with you is cherished.
I'm deeply grateful for the love and grace you shower upon us. You truly are a second mother to me.
With much love,
[Your Name]
Letter 21. To My Eternal Friend, My Sister
Dear [Sister's Name],
As I reflect on our lives, I am reminded of the tapestry of memories we've woven together. From whispered secrets under the covers, shared dresses, to the quiet strength we found in each other during life's challenges, you've been more than just a sister; you've been my confidante, my supporter, and my friend.
Your infectious laughter, your fierce protectiveness, and your unwavering love have been the pillars of my life. I treasure every shared story, every tear wiped away, and every joy celebrated together. You are a piece of my heart walking outside of me, and I cherish you every single day.
Forever entwined,
[Your Name]
Letter 22. To The One Who Bonds Us, Grandfather
Dear Granddad,
The stories you've told, the life lessons you've shared, and the traditions you've passed down are the threads that weave our family fabric together. I remember the tales of your youth, the challenges faced, and the triumphs celebrated. Every story painted a picture of a time gone by and taught me valuable lessons about life.
Your unwavering strength, your depth of wisdom, and your boundless love have always been a guiding light for all of us. Granddad, you are not just a part of our family's history, but the very foundation upon which it stands. I hold you in the deepest respect and love.
With heartfelt admiration,
[Your Name]
Letter 23. To My Childhood's Shadow, Brother
Dear [Brother's Name],
From our backyard adventures, imagining dragons and treasures, to our teenage years of shared dreams and friendly rivalries, we've grown, not apart but more intertwined. Your strength during tough times, your joy during celebrations, and your wisdom in quiet moments have shaped our family's journey.
I often think about our mischiefs, shared secrets, and the unspoken bond that ties us together. Your presence has been a constant, reassuring force, reminding me that no matter where life takes us, our bond remains unbreakable. Thank you for being more than a brother – for being a friend, a protector, and a guide.
With gratitude and love,
[Your Name]
Letter 24. To The Guardian of Traditions, Aunt
Dear Aunt [Aunt's Name],
Whenever I think of family gatherings, festivals, or special occasions, I see you at the heart of it, ensuring traditions are upheld, stories are shared, and everyone is enveloped in warmth. Your tales of our family's past, your commitment to preserving our culture, and your infectious enthusiasm have always made you the life of every gathering.
Your teachings have instilled in me a profound respect for our roots, and your love has taught me the value of family bonds. With every story, every lesson, and every hug, you have imprinted yourself onto my heart.
With endless love and respect,
[Your Name]
Letter 25. To The Bridge of Generations, My Nephew
Dear [Nephew's Name],
Watching you grow, exploring the world with wide-eyed wonder, reminds me so much of my own childhood and the adventures I once embarked upon. Every question you ask, every challenge you face, bridges the gap between our generations, drawing our family closer.
Your radiant energy, innocent queries, and pure love bring boundless joy to our family. I cherish the times we've shared, from play sessions to serious discussions about your dreams. Always remember that you have an entire family rooting for you, ready to guide and support you every step of the way.
Stay bright and beautiful,
[Your Name]
Letter 26. To The One Who Amplified Love, Step-Brother
Dear [Step-Brother's Name],
From strangers to family, our journey together has been one of discovery, understanding, and growing love. You've brought new perspectives, laughter, and experiences into our family, amplifying our joys and enriching our bond.
The memories we've created, the challenges we've faced together, and the love we've cultivated make our bond truly unique and special. I am grateful for the brotherhood we've fostered and the family ties that hold us together.
With gratitude and warmth,
[Your Name]
Letter 27. To The Family's Melody, Cousin
Dear [Cousin's Name],
In the orchestra of our family, you've always been a delightful melody that adds rhythm and charm. From impromptu dances to heart-to-heart talks, our bond is a blend of friendship and kinship.
Your vivacity, wisdom, and love have added immeasurable joy to our family gatherings. The times we've spent, the secrets we've shared, and the love we've woven together are treasured memories I hold close to my heart.
Dancing to our tune,
[Your Name]
Letter 28. To The Bond Beyond Blood, Sister-in-law
Dear [Sister-in-law's Name],
Our bond may not have begun with childhood memories, but the depth of our connection feels as if we've known each other for lifetimes. You've embraced our family with such grace, love, and warmth that it feels like you've been a part of it forever.
From shared giggles to mutual support during challenges, our relationship goes beyond just being in-laws. I cherish the sisterly bond we've nurtured and am grateful for the love and understanding that you bring into our family.
With heartfelt appreciation,
[Your Name]
Letter 29. To The Beacon of Wisdom, Father-in-law
Dear Father-in-law,
Your wisdom, guidance, and unwavering support have been the pillars upon which our family stands strong. Your tales of yesteryears, the lessons embedded within them, and your constant encouragement have shaped our family's values and bonds.
I feel immense gratitude for the warmth with which you welcomed me into the family and the trust you've placed in me. Your love and guidance are treasures that I cherish every day.
With profound respect,
[Your Name]
Letter 30. To The Heartbeat of Our Family, My Daughter
Dear [Daughter's Name],
With every heartbeat, every smile, every tear, and every achievement of yours, I've felt a kaleidoscope of emotions that words can barely capture. From the moment you graced our lives, you became the center of our universe.
Your laughter lights up our home, and your dreams inspire us. Every step you take, every challenge you face, know that you have a family that stands by you, celebrating your successes and supporting you through trials. You are our heartbeat, our pride, and our eternal love.
Forever and always,
[Your Name]
---
These are letters written by family members to express affection, appreciation, memories, and emotions. As discussed earlier, they can be heartfelt messages shared among family members to celebrate special occasions, to provide comfort during challenging times, or simply to remind each other of the love and bonds that tie them together.
More Letters: